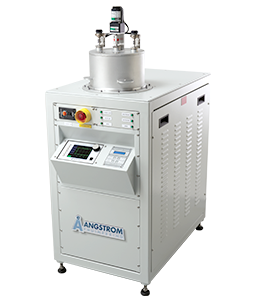 A compact, economical solution suitable for many process applications, the small size of the Covap will ensure you can find space in your lab and in your budget. Manufactured under high quality standards.
Built to our high quality standards, the Covap is available with closed loop co-deposition control, recipe storage, and a unique clam-shell chamber for improved accessibility. If your process requires glove integration the Covap can be mounted beneath your glove box making it a zero-footprint addition.
Process capabilities: Resistive thermal evaporation.
Clam shell chamber for improved accessibility – material and substrates can be loaded with ease even in a glove box due to the innovative clam-shell chamber design.
Bell jar designs restrict access to cleaning the inside of the chamber but the Covap opens to provide unobstructed access for removing shielding and preparing the system for the next run.
Ready for glove box integration (please contact Angstrom for required accessories and assistance.
Compact 600mm x 1000mm system footprint.
Choose from our 2 or 4 source configurations.
Recipe based advanced multi-layer deposition control with user logon control.
Sequential or co-deposition.
Fixturing supports up to 100mm x 100mm substrates and provides variable speed rotation.
International input voltages available.
Factory training included with every system.
Our detailed training manual teaches new users how to operate and maintain the equipment.
User safety is held paramount with features such as cutting power to sources when the chamber is open.
2-year warranty with responsive and caring customer service.
Automated single button pump down and venting sequences.
Rotary vane or dry scroll rough pump options.
High vacuum provided by turbo pump.
Pneumatic air line filter prevents unwanted debris from reaching and damaging critical components.
Easy access system interior with hinged electrical panel.
Shadow Mask and substrate alignment fixturing is available.
Sensors are rigidly mounted to ensure calibration is maintained.
Rate sensors are positioned for clear visibility even with shutters closed to allow a stable rate to be held prior to starting the process.
In co-deposition configurations, QCM sensors are carefully isolated to ensure there is no interference from adjacent source material.
Wide range 2.5kVA power supply provides the ability to control low temperature organic materials as well as deposit high temperature metals without the need to re-wire high current cables on the transformer.
Stainless steel isolation shields help to protect sources from cross contamination.