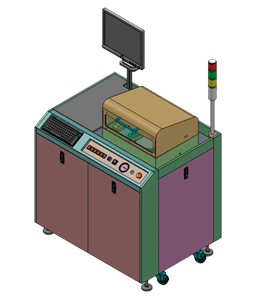 High performance Photo-Mask cleaner Manual system.
This very reliable and cost effective system utilizes a proven Pressure de-ionized Water or Atomizing Mist Nozzle.
The Effective Drying technique uses High Spin Speeds and Nitrogen Assist.
Square size 5" up to 7".
A genetic nerve-networking system using PC.
The software feature enhances with specialized hardware gives high process performance.
Software Benefit

Traceable system and operation history.
Operation error-free, production integrated recipe selection.
Paperless pass-down through e-log with light indication.
Production summary: Lot history.
Comprehensive alarm management.
Teach-mode calibration.
Single/Continuous component exercise.
Single module manual operation: Module recipe tuning.
Unlimited flow recipes and attachable module recipes.
Module Controller Benefits

Distributed PC & PLC module controller.
Interrupt controller and watchdog timer.
PLC expandable I/O.
4 serial ports, 2 with RS232/422/485.
Simplified signal wiring.
3 colors tower lamp.
Modular utility monitoring.
Easier OEM interface.
Enhanced Hardware Benefit

Oscillating Nitrogen Blow-off Arm.
Fan Tip Nozzle (Spray Jet).
Oscillating D.I.W Pressure Spray Arm.
Oscillating Brush Arm (optional).
Radial Down-draft Exhaust/Drain.
Chamber Liner.
Brush Height Adjustment Knob (optional).
Built-in Safety Interlocks and Positive Lid.
Locking During Process Cycle.
System Basic
Distributed module controller
Size Mask
5″-6″-7″ square
Mask handling
Manual
Mask contact & Holder
PFA, SST
Position accuracy
≤ 0.1 mm
Maximum spin speed
5000 rpm (5.500 rpm without mask)
Spin speed accuracy
≤ 2 rpm
Acceleration range
0-30000 rmp/sec
Acceleration accuracy
≤5%
Spin direction
Clockwise (+) & Counter clockwise (-)
Spin Motor
Heavy-Duty-Servo 3Ø PM
(ICS: 5, 62Amps, TCS: 2,88Nm, Nrtd : 5500rpm, PRTD : 1,3KW)