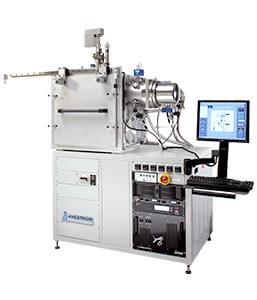 Expanding on the popularity of our Åmod line, the EvoVac's larger size allows even more configuration flexibility. Glove box integration is improved with its wider door opening and increased chamber height allowing for a greater source to substrate distance. The EvoVac line is for the researcher looking for more sources and flexibility in a deposition system.
Process capabilities
Resistive thermal evaporation.
Sputter deposition.
Electron beam evaporation.
Ion assisted deposition.
Custom available.
Angstrom advanced PC based software system control.
Long source to substrate distances.
Aluminum or stainless steel chamber options.
Custom designed to meet your process requirements.
Support for multiple PVD processes.
Glove box integration option.
1600mm x 1000mm system footprint.
660mm x 660m x 500mm tall chamber with sliding and hinged door options.
International input voltages available.
Recipe based advanced multi-layer deposition control with user logon control.
Sequential or co-deposition.
Standard fixturing supports up to 300mm diameter please contact us for assistance with larger substrate sizes.
Factory training included with every system.
Our detailed training manual teaches new users how to operate and maintain the equipment.
User safety is held paramount with features such as cutting power to sources when the chamber is open.
One-year warranty with responsive and caring customer service.
Rotary vane or dry scroll rough pump options.
High vacuum provided by turbo pump or cryo pump.
Pneumatic air line filter prevents unwanted debris from reaching and damaging critical components.
Easy access system interior with hinged electrical panel.
Shadow Mask and substrate alignment fixturing is available.
Sensors are rigidly mounted to ensure calibration is maintained.
In co-deposition configurations QCM sensors are carefully isolated to ensure there is no interference from adjacent source material.
Stainless steel isolation shields help to protect sources from cross contamination.
Substrate heating, cooling and biasing available.
Inclined angle deposition and planetary motion available.