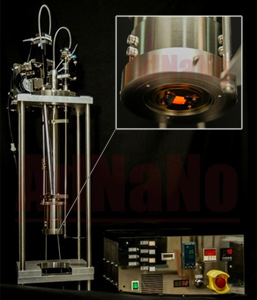 Designing a high temperature heater for UHV thin-film deposition systems which can work in oxygen or nitrogen-rich atmospheres is not easy. Conventional heating materials and mechanisms 1) generate additional vapor pressure from its heating component materials which limits the achievable UHV condition, and 2) oxidize its heating components which consequently deteriorate the heating material and process quality. There are some techniques to overcome this problem, such as Platinum heating element, SiC heating element with well-designed shape, etc. However, each methods has their own issues, such as high maintenance frequency, short life time due to oxidation of heating components, etc.
AdNaNoTek's Laser heating system is developed as a perfect solution for heating your sample for UHV thin-layer deposition in oxygen- or nitrogen-rich atmosphere. It does not possess the disadvantages that other heaters have. In addition, it is easy-to-use, compact, customizable, and has fast and localized heating mechanism.
It is equipped with a high speed pyrometer to monitor the temperature, and has a system control software to automatically control the laser heating parameters and processes. AdNaNoTek's Laser Heating system is very suitable for laser oxide/nitride epitaxy techniques.
Localized Heating Area
AdNaNoTek's Laser Heater can heat the substrate with well focus beam, such that, only the targeted area will be heated. The mechanism with a small distance from the plate stay at a relatively low temperature, reducing the outgassing from nearby surfaces. Can heat substrates effectively up to 2-inch area.
In addition, the system's support tube remains cool even after 10 hours of operation. No overheating of laser system upon using for long period of time.
Laser power: 200W.
Laser wavelength: 980nm.
Substrate size: 10mm up to 2-inch sample.
Heating temperature more than 1200°C (Fully oxygen compatible).
±1°C temperature stability.
PID temperature control.
XYZR 4-axis movement.
360° continuous rotation (optional: 5° substrate tilt).
Fan and Water cooling system.
Pneumatic substrate shutter.
Real-time temperature monitor by pyrometer (single wavelength, can monitor > 260°C).
State-of-the-art and easy operation computer software control.
Compatible with all UHV systems.
Customizable.
Substrate temperature more than 1200°C (or more upon request) even in a fully-oxygen atmosphere.
No heating components that can adds in vapor pressure in the chamber.
Localized heated area, lesser out-gassing during heating (you can deposit with a cleaner condition).
Can process with rapid temperature ramping.
Easier maintenance compare to traditional substrate heater (the heating element is outside of the vacuum).
Direct temperature measurement from sample/substrate by pyrometer.
Laser heater module with power supply (standard 200W).
Optical fiber.
Focusing lens with adjustable support.
Infrared pyrometer for temperature monitoring (with adjustable support).
PID temperature control.
RS232 communication port for remote controlling.
Control software for real time temperature monitoring, controlling, and alarm.
Liquid nitrogen cooling: 100K < Substrate Temperature < 1200K.
Laser power from 100W to 350W.
Customized laser heater.
Adjustable laser size and position.
Pulsed heating mode.