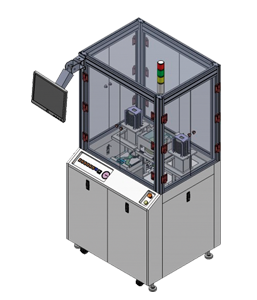 HMDS Vapor-prime Oven built on production proven photo track platform.
Suitable for IC, PSS LED, MEMs and other substrates.
Wafer size is 4".
PC based central control system.
Full featured software enhances process capability.
Low cost for Ownership, High productivity.
Small Foot-print.
Software Benefit

Traceable system and operation history.
Operation error-free, production integrated recipe selection.
Production summary: Lot history.
Comprehensive alarm management.
Teach-mode calibration.
Single/Continuous component exercise.
Single module manual operation: Module recipe tuning.
Unlimited flow recipes and attachable module recipes.
Module Controller Benefits

Distributed PC & PLC module controller.
Interrupt controller and watchdog timer.
PLC expandable I/O.
4 serial ports, 2 with RS232/422/485.
Simplified signal wiring.
3 colors tower light.
Modular utility monitoring.
Easier OEM interface.
Enhanced Hardware Benefit

Digital temperature controller (Watlow).
Special Vapor Prime Chamber design.
Clear anodized Aluminium Material.
Safety Interlock feature EXH, Over temp., Lid Cover.
Designed to minimize HMDS consumption.
Touch screen monitoring & data entry.
| | |
| --- | --- |
| System Basic | Distributed module controller |
| Wafer size | 4″ wafer |
| Wafer handling | Random robot transfer |
| Wafer contact material | Anodized aluminum |
| Position accuracy | ≤ 0.1 mm |
| SECS/GEM | Option |